90 DAYS SAME-AS-CASH
GET THE CREDIT YOU DESERVE!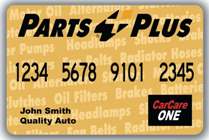 The Parts Plus CarCareONE Card makes it easy to keep your vehicle in top shape. With 90 Days Same-As-Cash financing available on purchases over $150 and low monthly payments, the Parts Plus CarCareONE Card is truly your auto service card. Use it for all your auto needs & it is the most convenient way to pay for all your auto-related needs. Whether it's routine maintenance or parts to a major repair, you can buy what you want...and need...now.

Unexpected repairs are more affordable and with extended financing and low monthly payments making repairs easier on your budget. Using the Parts Plus CarCareONE Card for all your vehicle's service needs lets you preserve your major credit cards for other uses. Plus, it's the convenient way to keep track of all your auto-related expenses.

It's quick and easy to apply. Simply visit a Parts Plus Autostore or Car Care Center near you and fill out the brief application form. Your application will be processed with 2-3 minutes.

Money Saving Benefits
No Annual Fee
Free Emergency Roadside Assistance
A credit card dedicated to auto-related expenses
90 Days Same-As-Cash on purchases over $150
25-day grace period billing on all purchases under $150
Low monthly payments
Won't tie up your other credit cards
No interest or fees unless you decide to extend payments
Nationwide acceptance



Excellent services!! Came here to get my axel replaced they were able to fix it so quick and for such a great price. Tammy and Chuck are soooo incredibly nice. I been having issues with my keys and when I picked up my car Chuck offered to look into the key problem for me, I didn't even ask or bring it up! He stayed after closing time to help look into the issue, sooo kind. I will be a regular here now!
Chani Thammasan
, 07/21/2023
join our team
We are currently on the lookout for the following:
B Level Technician
C Level Technician